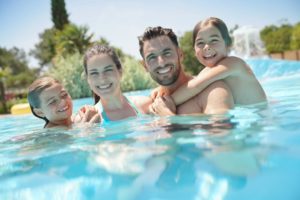 When it comes to beating the Florida heat, very few things are as effective as jumping into a swimming pool. If you're like most people, you've probably made plans to take a refreshing dip in the pool with your friends and family this summer. However, there is something you may not have considered: is swimming bad for your teeth? Read on as a dentist explains how swimming in a pool impacts your dental health and how you can keep your smile safe this summer.
How Does Swimming in a Pool Affect Your Teeth?
If you're not careful, swimming could potentially harm your smile in the following ways:
Swimmer's calculus – Over time, chlorine in a pool can deposit a residue on your teeth that stains them yellow or brown. This typically only occurs if you spend more than six hours a week in a pool.
Tooth sensitivity – If the chlorine levels in a pool are too high, it could wear down the enamel of your teeth. This leaves them more susceptible to painful sensitivity.
Oral injuries – From running and slipping by the side of the pool to water sports like chicken or water volleyball, summertime is rife with risks of injuring your teeth.
Tooth squeeze – Sometimes when swimming, the air inside of the teeth contracts to match the pressure of the air outside of the teeth. This condition, known as barodontalgia, or "tooth squeeze," can cause discomfort in teeth with restorations, such as dental crowns or fillings. It's more likely to occur at extreme altitudes, so divers and snorkelers are particularly at risk.
As you can see, swimming in a pool might be more dangerous than you'd thought! Luckily, there are ways to minimize these risks.
Tips for Preventing Swimming-Related Dental Problems
Here are some tips to keep your smile safe while swimming this summer:
If you own your own pool, have a professional make sure the chlorine levels are optimal (in most cases, a pH level between 7.2 and 7.8 is ideal).
Wear a mouthguard if you play water sports to shield your teeth from injury.
Rinse your mouth with tap water after you go swimming.
Brush with a toothpaste that contains fluoride to strengthen your teeth.
Visit your dentist regularly for checkups and cleanings. If you have discoloration that you suspect might be swimmer's calculus, be sure to let them know.
Swimming is an incredibly fun summer activity, but don't let it harm your smile! Keep the tips listed above in mind to safeguard your smile all summer long.
About the Author
Dr. Richard Carlson has been a trusted family dentist in Jacksonville, FL for more than 35 years. Throughout his decades-long career, he has maintained active memberships in various professional organizations and has stayed updated with the latest advancements in the field of dentistry. At Carlson Dental Group, he provides a variety of dental services, including fluoride treatments and custom mouthguards to protect smiles of all ages. To learn more about keeping your smile safe this summer, visit his website.