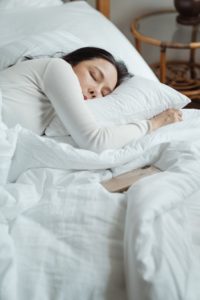 If you aren't feeling well-rested since the warmer weather arrived, you're not imagining things. Believe it or not, several factors can cause you to toss and turn during summer nights. Without adequate rest, you might struggle with daytime fatigue, moodiness, and loss of concentration. If you have sleep apnea, more than just your quality of life will suffer. Your general health could also take a turn for the worse without the right intervention. If you're spending hours looking up at the ceiling at night, here are 4 tips from your sleep dentist to help you doze off.
Summer and Poor Sleep Quality
Warm weather and sunshine are enough to put anyone in a good mood; however, your high spirits can be doused if you aren't sleeping well. Unfortunately, a bad mattress isn't always the cause of a sleepless night. Instead, here are common culprits to poor sleep quality and how you can fix them:
1. Room is Too Hot
It can take your body time to adapt to temperature changes, which can leave you laying in bed sweating. You can keep cool by positioning your bed near an air source, like a fan. Just make sure the air is blowing downward instead of upward. SOM Sleep recommends keeping your bedroom between 60 and 67 degrees.
2. Too Much Sunlight
You need to spend time outdoors to soak up vitamin D, but did you know too much sunlight can affect your sleep schedule? Summer means longer days, which can cue your body to remain alert later into the night. Don't worry, you don't have to spend the summer hiding indoors. Instead, use blackout curtains to keep the morning light out of your room. It's also a good idea to do any outdoor activities earlier in the day to fall asleep quickly.
3. Not Following a Schedule
You have a routine to get out the door on time in the morning, but do you have a bedtime schedule? Although your days might be laxer over the next few weeks, it's important to keep your bedtime consistent. This allows you to create healthy sleep patterns, so you won't be tempted to take an afternoon nap.
4. Untreated Sleep Disorder
Sometimes, an untreated sleep disorder can be the cause of your sleepless nights. Obstructive sleep apnea is a common source, which causes a person to stop breathing frequently while sleeping. Thankfully, your dentist can solve the problem with an oral appliance. It will keep your airways open, so you can sleep peacefully.
You can feel your best for summer by making a few simple changes as you wind down after a long day.
About Dr. Richard Carlson
Dr. Carlson has over 35 years of experience in dentistry. After earning his dental degree at the University of Florida College of Dentistry, he continued his training in advanced studies, including sleep apnea therapy. He offers the latest solutions to help you breathe better. If you're ready to sleep soundly, contact our office today to schedule a consultation.