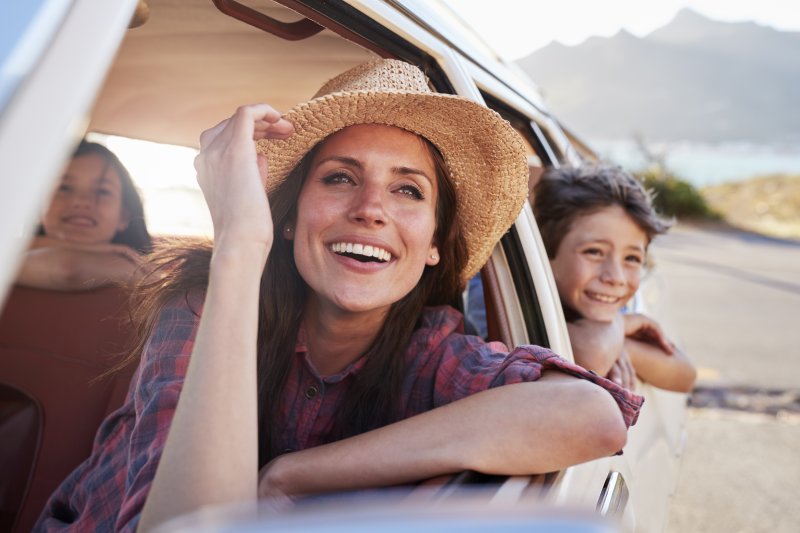 Gaps in your smile? Tooth discoloration? Damaged teeth? There are many reasons why people may feel self-conscious about their grins, making them want to shy away from the camera.
Fortunately, cosmetic dentistry can correct these flaws so you can beam with confidence all season long. If you want to fully enjoy your vacation without having to hide your teeth, porcelain veneers may be the solution for you. Read on to learn how veneers can help you achieve a smile that will shine through all your summer photos.
What Are Porcelain Veneers?
These thin shells of high-quality porcelain are bonded to the front surfaces of the teeth, custom-made to fit your smile and completely covering any cosmetic flaws. Porcelain veneers are matched to the color of your enamel, so they blend in seamlessly with the rest of your teeth, giving you a beautiful, natural-looking smile.
How Do Porcelain Veneers Improve Your Smile?
If you're looking to transform your smile, porcelain veneers are a great option to consider—they're extremely versatile and can address a wide range of cosmetic flaws.
Restore Damaged Teeth
Do you have minor chips or cracks in your teeth? Veneers are an excellent solution that can improve the appearance of your smile by concealing these minor signs of damage, giving you the freedom to say cheese with confidence.
Cover Major Tooth Discoloration
In some cases, whitening treatments are unable to brighten severely stained or discolored teeth. This is usually only an issue when the stain originates from deep within a tooth, where dental bleaching has limited impact. Luckily, porcelain veneers can help! They ensure tooth discoloration is completely covered so you can enjoy a beautiful set of pearly whites following treatment.
Close Gaps in Your Smile
Two of the most common cosmetic flaws are spacing issues and small gaps. Although orthodontic care is ideal for these matters, some people may not want to endure several months of treatment. Porcelain veneers have coined the nickname "instant orthodontics" because they can correct these problems in only a couple of appointments.
Improve Symmetry and Alignment
No one is born with a perfect smile—some teeth may just naturally vary in size and give you an asymmetrical grin. Since veneers are affixed to the front of the teeth, you can have a perfectly uniform smile after just a few dental visits.
If you want a quick, conservative, and effective cosmetic treatment to improve your appearance, porcelain veneers may be exactly what you're looking for. Invest in a bright set of pearly whites so you can sit back, relax, and make the most out of your vacation with renewed confidence.
Meet the Dentists
Dr. Richard Carlson, Dr. Khoi Le, and Dr. Edward Murray of Carlson Dental Group provide world-class dentistry for all patients, offering personalized care based on your specific needs, wants, and goals. They offer some of the exact cosmetic treatments your favorite celebrities get, so you can achieve a winning smile you'll always be eager to show off. If you would like to transform your grin with porcelain veneers, visit our website or call (904) 262-8449.