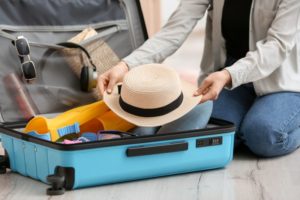 Summertime is finally here, and after the COVID-19 pandemic forced you to stay indoors for a little over a year, you're finally ready to breathe in fresh air by the beach and get the most out of the great weather. The last thing you would want to happen would be to have an unexpected dental emergency completely ruin your trip, which is why it's important to take precautionary measures. Read on to learn four helpful tips so you can enjoy your summer without ending up in your emergency dentist's treatment chair.
Prepare a Dental Emergency Kit
Being prepared for a dental emergency can be the difference between losing a tooth and saving a tooth in some situations. If you're embarking on a road trip or long journey, putting together a dental emergency kit is always a good idea. You can purchase a small, cheap container to house everything in from Dollar Tree or a local store. Be sure to include the following items in your kit:
Sterile, individually wrapped gauze pads
Pair of latex-free gloves
Small, sealable container
Saline solution
Your emergency dentist's phone number
Ibuprofen
Dental mirror
Orthodontic wax
Orajel
A filling-repair kit
Pack Healthy Snacks
Did you know that what you eat can threaten the health of your teeth? This is because harmful oral bacteria feast on carbohydrates and sugars and release toxins that can result in the formation of gum disease and cavities. Instead, pack healthier snacks like fresh fruits and vegetables, and avoid sugary or processed foods.  
Stick to Your Regular Oral Hygiene Routine
Even though you're leaving all of your worries behind on vacation, you should still practice good oral hygiene every day to keep a dental emergency from happening. Be sure to pack a travel-sized toothbrush, tube of toothpaste (that has fluoride), mouthwash, and dental floss. During your trip, brush your teeth twice each day, floss daily, and rinse with mouthwash, like you would at home.
Schedule Your Bi-Annual Checkup Before Leaving
Finally, before you leave for your vacation, don't forget to schedule you and your family members' bi-annual checkups and cleanings with your dentist. That way, if you do have any lingering oral problems, they can treat them instead of having them get worse and causing you pain whenever you're far away from your dental home.
By putting these four tips into practice, you'll not only be able to get the most out of your vacation, but you'll also save yourself discomfort, time, and money! Sounds like a win-win for you and your family!
About the Practice
At Carlson Advanced Dentistry & Facial Esthetics, our team of three highly experienced and compassionate dentists want you to be able to live your best life with a smile that you feel proud of. By focusing on providing thorough and attentive preventive dental care, they aim to diagnose and treat the small issues before they have a chance to affect your daily life. For questions or to schedule your pre-vacation checkup and cleaning, visit our website or call 904-262-8449.