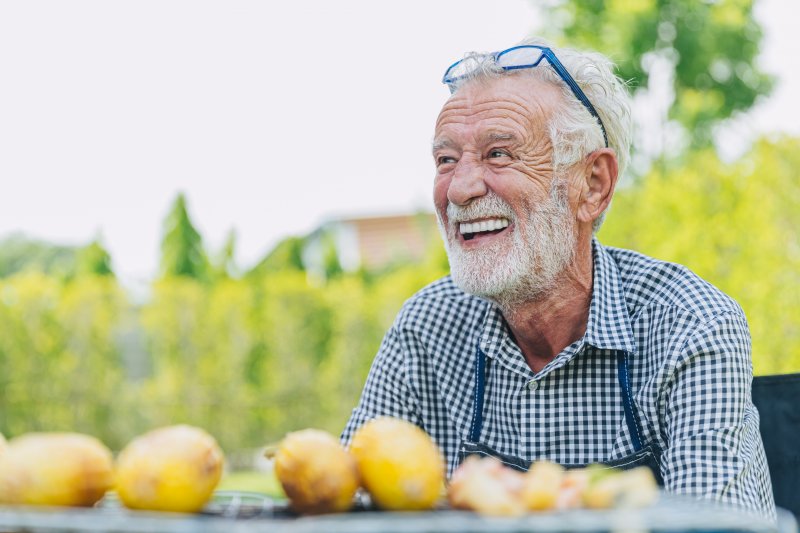 One of the best ways to replace missing teeth is with dentures. With their help, you can enjoy the perks of living with your full smile again. However, it can be difficult for some patients to perform certain kinds of oral habits, such as talking and eating their favorite foods. Keep reading to learn five essential tips to help make your adjustment process much easier for eating with dentures!
Tip #1: Stick to Soft Foods First
It can take some practice to do certain daily oral habits like talking and eating when first wearing your restorations. For this reason, you should consider sticking to a softer food diet so that you can get used to the feeling of chewing with your dentures. These meals can include applesauce, pudding, mashed potatoes, and scrambled eggs. Not only can these offer nutritional value, but they'll be much easier for your mouth to handle.
Tip #2: Avoid Spicy Meals
Although your dentures may be properly fitted, you might still experience mild soreness or even irritation in the gums when wearing them for the first time. This can be problematic if you typically enjoy spicy foods, as they can cause burning or stinging sensations. To prevent these complications, it's best to avoid those kinds of meals until you're in better condition. Speak with your dentist if your symptoms don't change, and they'll be happy to help.
Tip #3: Check the Temperature of Your Food
Your dentures can provide an insulating effect, meaning you won't feel or be able to judge temperatures as accurately as with your natural teeth. Some foods can be served extremely hot, which can put you at risk of burning yourself or warping your restorations. That's why it's a good idea to always double-check how hot your meals are before digging in.
Tip #4: Keep Clear of Sticky Foods
While you're learning to eat with your dentures, you might consider staying away from hard or sticky foods. These meals can often shift your restorations out of place and can even gradually damage them. You'll want to keep clear of smaller snacks like seeds and nuts, as these can get trapped beneath your dentures and increase the risk of bacteria buildup.
Tip #5: Take Your Time
The most important thing you should do is to be careful and patient while growing accustomed to your dentures. Practice chewing on both sides of your mouth to distribute the pressure from eating. Not only will this make chewing easier in the long run, but you'll also avoid making your gums sore.
With enough practice, you should be able to make the most of munching with your dentures in no time! Stick to these few tips when adjusting to your restorations, and be sure to consult your dentist if you have further questions.
About the Author
Dr. Richard Carlson is a proud member of several groups like the Academy of General Dentistry, the Seattle Study Club, and the American Dental Association. He graduated from the University of Florida College of Dentistry and has delivered outstanding care for over three decades. He offers multiple advanced treatments, including dentures to replace missing teeth. If you'd like to request an appointment, feel free to visit our website or call 904-262-8449.