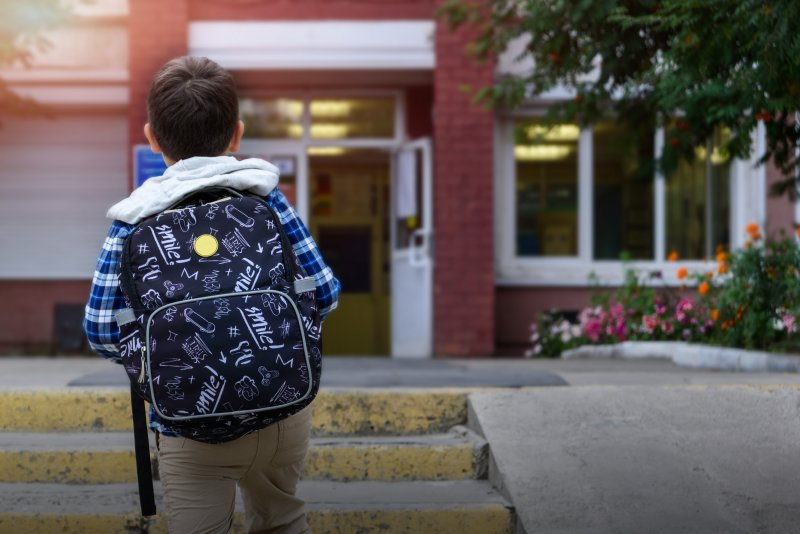 Now that it's time for your child to head back to school, you'll want to take steps to help prepare them for the year. Other than packing their lunches, buying their supplies, and organizing transportation, you should also stay on top of their oral health. The last thing you'd want is for them to experience a tooth injury at school. To avoid an urgent situation, here are four essential tips to help them prevent dental emergencies!
#1: Encourage Good Oral Hygiene
It's normal for your little one to slack a little on oral hygiene over the summer. While this isn't entirely a bad thing, you must help encourage them to pick up those healthy habits again. To promote healthy teeth and gums, make sure they brush thoroughly for two minutes twice a day (morning and evening). Get them to floss at least once daily (or after meals) and to start rinsing with mouthwash when they're old enough (typically around age 13).
#2: Pack Their Lunches with Smile-Friendly Foods
While there are plenty of tasty foods, you'll want to make sure your child eats those that are nutritious and safe for their teeth. Sugary, starchy, and acidic meals can be detrimental to their enamel, such as candy, chips, and sodas. You should also avoid packing hard or crunchy foods, as these can risk chipping, cracking, or damaging their pearly whites. Instead, send them to school with softer options like applesauce, yogurt, oatmeal, cooked veggies, and fresh fruits!
#3: Protect Their Teeth with Mouthguards
Does your child tend to clench or grind their teeth while sleeping or stressed? Since this can wear down their enamel over time, you might consider investing in nightguards for bruxism to protect their smile from future damage. You should also ask your dentist about custom-made mouthguards if your child enjoys contact sports, which can help prevent a dental emergency and the need for costly treatments. They'll be able to recommend the best products for their teeth.
#4: Schedule Routine Dental Checkups & Cleanings
Now is always a good time to schedule your child's biannual dental checkup and cleaning. Their dentist will be able to remove stubborn plaque and tartar while monitoring the condition of their oral health. They can also provide necessary treatments for any developing or underlying issues they might detect so that they can stop more serious complications from starting in the first place, such as cavities, gum disease, and infections.
By taking preventive measures early on, you can help protect your child's smile from potential dental emergencies. Keep these few tips in mind throughout the school year, and you'll significantly reduce their risks in the long run!
About the Author
Dr. Richard Carlson is a proud member of numerous prestigious organizations like the American Dental Association, the Academy of General Dentistry, and the Las Vegas Institute for Advanced Dental Studies. He studied at the University of Florida College of Dentistry and continues to seek advanced training to refine his skills. He provides a vast selection of high-quality services, including dental checkups/cleanings and emergency dentistry. If you'd like to schedule your child's biannual checkup this back-to-school season, visit his website or call him at 904-262-8449.