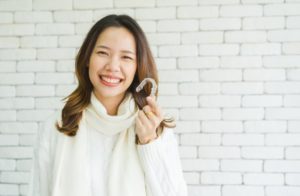 The holiday season has arrived! While it is a magical time of the year, it can also be full of nonstop activity. From traveling to visit loved ones to many festive meals, it can be easy to neglect your Invisalign treatment plan. Your pearly whites have been gradually moving into their desired position and you really want to stick with your treatment plan so your new smile can arrive on time! Here are four tips to help you stay on track with Invisalign while you enjoy the celebrations.
#1. Wear Your Aligners for The Required Time
One of the keys to ensuring the success of your Invisalign treatment is keeping your aligners in your mouth so they can gently move your teeth into their desired place. Therefore, it is important to wear them for at least 20-22 hours a day and switch out each set of trays every two weeks (or as recommended by your dentist). During holiday dinners or parties, set a designated amount of time to enjoy eating and drinking; then you can put your aligners back in as soon as possible. This will help ensure that they stay clean and don't get stained from food or beverages.
#2. Be Mindful of Holiday Treats
While it's tempting to indulge in all the sweet treats that are offered throughout the holiday season, this can unfortunately lead to cavities or other dental problems that could interfere with your Invisalign treatment. Do your best to opt for nutrient-dense options as often as possible and minimize sticky foods like holiday candy and pies. These can get stuck between your teeth and make it difficult for your aligners to fit properly.
#3. Take Care of Your Aligners
The most challenging part of staying on track with your Invisalign treatment during the celebrations is when you have to travel. If you plan on taking a holiday trip, be sure to bring along a toothbrush and other essentials so that you can clean them every day while you're away. This will help keep your aligners free from harmful bacteria and food particles, which could otherwise cause them to become discolored or smelly.
#4. Make Your Dental Appointments a Priority
It may be an inconvenience to fit in your treatment appointments when there are so many other fun things going on during the holidays, but they are essential for making sure that your Invisalign treatment is progressing as it should. Your dentist can adjust your aligners if needed. They can also make sure that you're on track with the entirety of your treatment plan.
With some extra planning and care, you can still enjoy all the festivities without worrying about falling behind in your Invisalign treatment plan. You will be glad for your diligence when you get your new and improved smile right on time!
About the Practice
Carlson Dental Group helps the people of Jacksonville achieve the smile of their dreams through the expertise of their team of dentists. With thousands of hours of advanced training and decades of experience, your pearly whites are in safe hands all year round. To achieve your straighter smile with Invisalign, they use advanced technology and personalized plans for optimal comfort and success. To schedule an appointment, contact them through their website or call (904) 262-8449.